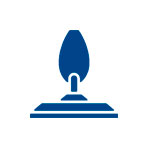 Carpet Cleaning
Carpeting can be a good flooring choice for both homes and businesses. Not only does carpet look nice, it also offers you a range of color choices and can provide sound dampening, which can make it a good choice for rooms such as bedrooms. A big drawback to carpet is that it is hard to keep clean. Though carpet can hide dirt for awhile, eventually it starts to look dingy and show its wear. When that happens, it's time to call in the professionals. Kleen King offers carpet cleaning in Helena, MT, and surrounding areas. Our family owned and operated company strives to provide professional work and excellent customer service.
Hiring us to clean your carpets comes with a number of benefits. One of the biggest is that it removes harmful substances such as mold, allergens and bacteria from your home. Professional cleaning also helps to maintain your carpets and protect your investment while also saving you time and energy.
Kleen King has knowledgeable managers with over 20 years of service, and we use proven processes, which means we produce consistent results. We also focus on safety and use eco-friendly products that also are safe for your children and pets.
If your carpets are looking dirty and dingy, it's time to call in the experts from Kleen King. We are a family owned and operated company that serves customers in the Helena, MT, area. When you hire us, you can count on safe, professional results, as well as excellent customer service.