Kleen King Service Area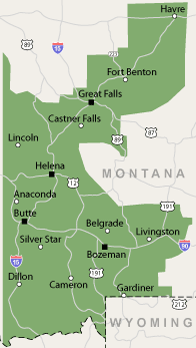 The experts at Kleen King specialize in carpet cleaning, upholstery cleaning, and office and janitorial cleaning for business owners and homeowners in Montana. With years of experience we are a growing company with over 100 employees in Great Falls, Butte, Helena and Bozeman.
For more information about the services we offer or for a Free Estimate contact Kleen King today! With backing from our valued and satisfied customers, we continue to rise above the competition. We serve Great Falls, Bozeman, Helena, Butte, Havre, Livingston, Belgrade, Anaconda, Deer Lodge, East Helena, and the surrounding areas in MT.
All of our dedicated, experienced employees strive to provide each client with the highest level of service with both products and the top-of-the-line equiptment that they use.
Carpet, upholstery, air duct, and tile & grout cleaning are no problem for Kleen King. Don't hesitate to call and find out if you are in our service area. We want to help business and homeowner keep their spaces clean, dry and looking like new!
Belt, Black Eagle, Cascade, Fort Shaw,
Great Falls
, Malmstrom Afb, Monarch, Neihart, Sand Coulee, Simms, Stockett, Sun River, Ulm, Vaughn
Chouteau, MT
Big Sandy, Carter, Floweree, Fort Benton, Geraldine, Highwood, Loma
Granite, MT
Drummond, Hall, Philipsburg
Hill, MT
Box Elder, Gildford, Havre, Hingham, Inverness, Kremlin, Rudyard
Augusta, Canyon Creek,
East Helena
, Fort Harrison,
Helena
, Lincoln, Marysville, Wolf Creek
Madison, MT
Alder, Cameron, Ennis, Harrison, Mc Allister, Norris, Pony, Sheridan, Silver Star, Twin Bridges, Virginia City
Park, MT
Clyde Park, Cooke City, Emigrant, Gardiner,
Livingston
, Pray, Silver Gate, Springdale, Wilsall
Powell, MT
Avon, Deer Lodge,
Elliston
, Garrison, Gold Creek, Helmville, Ovando
Butte
, Divide, Melrose, Ramsay